In the simplest terms, there is nothing more important in the distilling industry than process safety compliance. Whether it is IEC61511 in the UK or the international standard NPFA30, legislation is comprehensive and safety requirements are clear and strictly enforced - as they should be.
Since its formation in 1994, Allen Associates has been providing industry-leading process safety solutions for distillers and plant operators in the UK and overseas. The company has provided compliance services for all types of site, from small craft gin distilleries to automated production, handling, and storage facilities.
Process safety is built into the fabric of every project undertaken by the Allen Associates team. Nothing is ever left to chance and no compromises are ever made.
Services
Services provided by Allen Associates' qualified and experienced compliance team include:
Development of Process and Instrumentation Diagrams (P&IDs).
Emergency relief vent sizing assessments.
Dangerous Substances and Explosive Atmospheres (DSEAR) hazardous area classification and risk analysis.
Hazard and Operability (HAZOP) studies.
Layer of Protection Analysis (LOPA) and Safety Integrity Level (SIL) assessments.
Support throughout the cycle
To understand what might go wrong you first need to understand how things work. Using its unrivalled design experience in distilled spirits, Allen Associates can add further value to the safety services it offers by developing them into practical solutions to effectively manage risks on site.
Support can be provided at all stages of the process safety implementation cycle to ensure the systems you install are robust and compliant with all relevant regulations: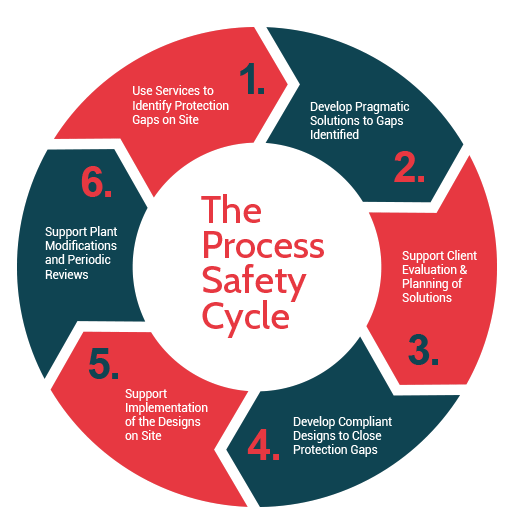 Help to get you started
To help kick start your project Allen Associated offers a FOC consultation to discuss process safety compliance requirements and a plan to take things forward. Depending on the site size and location the team can also carry out a FOC high level site audit to help prepare a bespoke service package to suit your requirements.
Our process safety expertise has been used across the industry by the majority of distilled spirit businesses including:
Bacardi
Beam Suntory
Brown-Forman
Campari
Diageo
Distell
Edrington
Glenmorangie
William Grant & Sons